Inspections
TERMITE INSPECTIONS
It is essential to have regular Termite Inspections completed by a professional as part of a termite prevention program to ensure termites do not damage your property.
ALLHART Pest Management provide a professional, reliable and prompt service at a competitive price.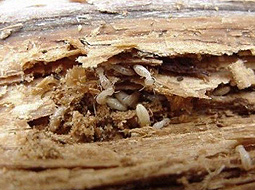 A Termite Inspection includes a thorough inspection of the property, informing you of any potential hazards such as past or present termite or pest activity and/or damage, fungal decay, drainage problems and any conditions conducive to timber pest attack.
An ALLHART Pest Management Termite Inspection includes a visual inspection of the following areas (where readily accessible):

Sub-Floors
All subfloor areas including foundation walls, piers, behind plumbing pipes, loose timbers, builder's debris and stored materials.
Timbers such as bottom plates, base plates, bearers, joists and the underside of flooring and all other timbers especially those close to plumbing and drains.
Timbers in contact with soil, such as stumps, posts and formwork or any other cellulose containing material.
Interior Areas
Interior walls, ceilings, partitioning, stairways, flooring, skirting boards, cupboards and timbers around windows and doors.
Behind plumbing and around pipe penetrations through slab-on-ground construction with particular attention paid to all timbers adjacent to plumbing or plumbing fixtures.
Fireplaces.
Roof Space:
Timber roof truss members and roof framing including rafters, ceiling joists, ridgeboards and purlins
Top wall plates and accessible roof or wall juncture (eaves) timbers.
Roof lining, around air conditioning units and water heaters.
Exterior Areas
Eaves, window and door frames and walls, noting excessive moisture and probable causes such as defective drainage, plugged or damaged gutters and inadequate ventilation or sealing against moisture.
Slab edges including any cracks and expansion joints.
Timber that rests on or extends into concrete or soil such as supporting posts on decks.
Paths and driveways abutting the building.
Stairways, decks, handrails.
Rafters such as those in the carport or garage that protrude from the roof or eaves area.
Landscaping timbers, fences, logs, pool surrounds, firewood, paving blocks and sleepers.
Trees and stumps